It's hard to believe the holidays are almost over and so is 2013.  This year has been a very busy, but successful one. I'm excited for all that 2014 has in store. For my final post of 2013, I thought it only appropriate to share about a wonderful green company based in Hawaii that I recently learned about.
Did you know that there is over 4 million tons of trash created each year by wrapping paper and shopping bags, just from the U.S.!?! Well, thanks to Wrappily, there is now a new approach to wrapping that can help minimize your carbon footprint.  Wrappily is a sustainable, eco-friendly, locally sourced, and 100% recyclable alternative to traditional wrapping paper. Not only are their modern designs chic and unique, but you can feel good about helping protect the environment when you use them. Your gifts will definitely stand out from the rest and make a statement! Just look at some of the great designs available…
This holiday season there will have been about 227,000 linear miles of wrapping paper thrown out. Though Christmas has passed, there are still so many opportunities to exchange gifts…Valentine's Day, Birthdays, Anniversaries, and before you know it, Christmas all over again. If going green is something you're thinking of incorporating or hope to do better this year, you will want to make sure to include Wrappily on that New Year's resolution list.
Find out more about Wrappily on their Website and check out their Indiegogo Campaign.
You can also follow Wrappily on Twitter, Facebook, Instagram, Pinterest and Google+
#WrapHappy
Happy New Year!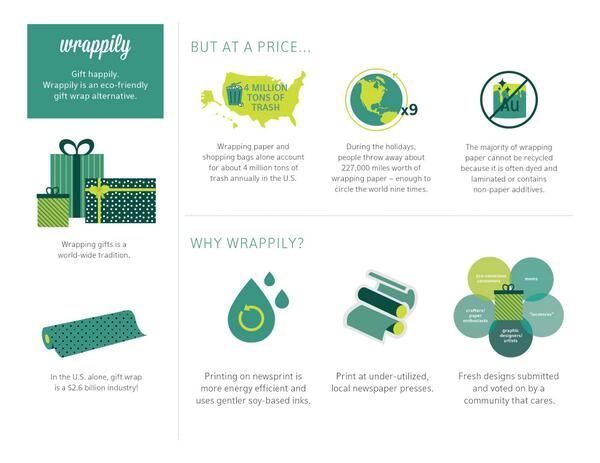 Related articles